I love beautiful hanging baskets even with their high maintenance attitudes.  😉  I often experiment with different combinations.  Some are fabulous successes, some are epic failures.
Today, I thought I'd show you some fabulous successes  from around the world and provide links to articles that'll help you with choosing the right type of basket, flower suggestions, and how to plant the basket.
This first one is a classic begonia basket.  The site where this image came from is all about hanging baskets.  There's lots of useful info.  Plus, there's a how-to video on planting an advanced basket, which isn't really all that advanced, anyone can create a show stopper!
(source)
I love the overall effect in this next image.  The landscaping is beautiful.  The stone & cedar shake siding on the house are beautiful.  The hanging baskets tie in beautifully.
(source)
Here's another I enjoy for its containers and baskets!  The home owner says, "With a multitude of plant media from petunias, succulents, airplane plant-hanging baskets, elephant ear and that sturdy standby, asparagus ferns and more, we enjoy a lush landscape.  Since our dominant garden color is green, we depend on our Maverick Geraniums to brighten and draw the eye for the many garden tours and visits we host."  I'd surely visit if I lived in Texas!!
(source)
These next few baskets are pretty traditional but I had to include them for their beauty!
Hosta & Fern
(source)
Ferns forever…..
(source)
So sweet!
(source)
Love the color combos of these next ones!
(source)
I like how these line the sidewalk.
(source)
These I'm sharing because the baskets themselves are unique.
Okay, not technically a basket, but isn't this cool?
(source)
Have a coastal home?  This one is calling your name!
(source)
We've all seen these baskets, but I love that they're growing lettuce and herbs in them.  Plus I love how this is staged – the hanging colanders; the galvanized bucket on the left.
(source)
I'm drooling over this driftwood basket.  What a great DIY project too!  I'm off to the beach as we speak to find some driftwood! 🙂
(source)
Love this copper bucket!
(source)
How fun is this colander basket!!
(source)
Again, not technically a basket, but very pretty!
(source)
If it can hold dirt, it can grow flowers…
(source)
Pretty sure I wouldn't have this in my yard, but if you're daring enough, go for it…
(source)
Weighing in at more than a quarter of a ton, the Hotel Indigo claims this is the world's largest hanging flower basket. The 20-foot by 10-foot basket hangs from 25 feet up in the air and took engineers three weeks to build and a solid day of work to install. Over 100 varieties of flowers and plants are in the basket.
(source)
The rest of these images contain plantings you may not typically see in a hanging basket.
Tomatoes, somewhat typical.  However, these are grown hydroponically.  Their site says, "Here are some tomatoes (variety Tumbling Tom) grown by Kath in Linlithgow, near Edinburgh. They are planted into some of our Self-watering Hanging Baskets and fed our Tomato Liquid Feed. This is a great idea if you don't have much space and miss the just-picked flavour of home-grown tomatoes."
(source)
Succulents in hanging baskets are becoming more and more popular.  I'm loving these!
(source)
Beautiful orchids!
(source)
Jaw dropping gorgeous hydrangea baskets!
(source)
After seeing these hydrangea baskets, I was curious to find out how difficult it would be to do this on my own.  I found this question and answer online.
Q: I would love to have just one hydrangea hanging basket for my porch and I have to know how difficult this would be. I'm figuring with the right support and maybe a drip system it's do-able. Has anyone ever tried?

A: Look up 'dwarf hydrangea macrophylla'… there's one named PIA that would be suitable….

other names..

'Piamina', 'Comet', 'Winning Edge', 'Pink Elf'

You do realize these are hanging from roof support structure beams?… and that the basket containers up there are every bit as big as those huge pots on the floor?….. and that they have great knowledge of how to cut/prune and when and where and how much and also have the chemicals that will 'push' blooms?…. no matter , tho… it's an experiment…. I have some normal sized ones that are in huge pots and they do fine…. but never have they looked THAT good!… *smile*….

Consider Endless Summer or Blushing Bride, too.. they are able to bloom on new and old wood and repeat as you remove old flowers….

These will need almost constant water, great drainage, too, and food with nearly every watering….

luck to ya!….
Hmm, let me think about this…..  maybe in my next life I'll attempt it.  🙂
Here's more hydrangea baskets from the same place, Conservatory at Longwood.
(source)
I love Diamond Frost Euphorbia!  I don't know why I haven't thought of putting it in a hanging basket.
(source)
Beautiful Cymbidium Orchid
(source)
Crafty Jenny teaches you how to make this adorable ball hanging basket.
Great eye candy, don't you agree?
I got to thinking, how can one make an actual hanging basket (not how to fill it), but actually make the basket?  Hanging baskets aren't cheap in my neck of the woods.  So, I did a search to see what I could come up with.
◊ This woman made a basket out of an old wire framed lampshade and chicken wire.  If you had (or could find at a second hand store) the shape you want, couldn't this work for a hanging basket?  Would it be sturdy enough?  You'd also have to cut larger holes in the chicken wire in order to fit plants in the side of the basket.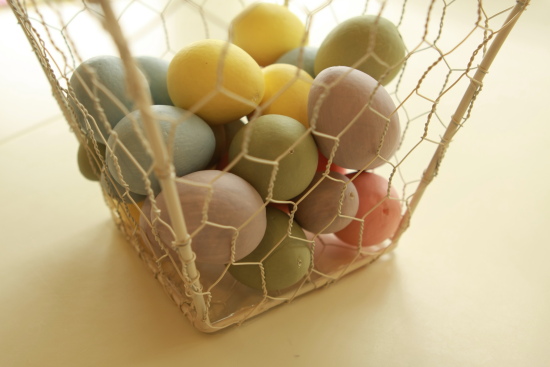 ◊ This would definitely work.  You can make any shape out of wire coat hangers!
◊ I think this would work too!  A basket made out of chicken wire and 14-gauge wire:
The author states,"Chicken wire is a particularly fitting material to use to shape into garden pots. The wire is flexible and strong and can be easily wired together using its own wire and loose wire. Once formed, a chicken-wire pot can be lined with moss and hung along with your other hanging planters. Because you are not limited to commercial sizes, you can make your wire pot the size and shape you want."
Does anyone have any ideas on how to make an inexpensive hanging wire basket??
On a final note, here's a few links you may find helpful in your pursuit of the perfect hanging basket.
◊ This site has tips on making your hanging baskets lighter by using packing peanuts.
◊ Here's a video tip on how to get more out of your coco liners.
◊ This site has some great suggestions on how to plant and reduce the watering of your basket.
◊ Here are step-by-step instructions on assembling a hanging basket.
There really are hundreds, if not thousands, of sites to help you with your hanging basket quest.
Email me or put a link in the comment section to pictures of your fabulous hanging baskets.  I'd love to see them and may feature them in an upcoming post!
Have a wonderful weekend!
Related posts you may like: