Is there a new ceiling fan trend happening I'm not aware of?  I'm not sure about you, but I keep hearing more and more people are becoming obsessed with choosing the perfect ceiling fan for their space.  Who knew?  In case you're one of those people, I'm here to help today!
Ceiling fans haven't ever been my cup of tea because every house I seemed to walk into as a kid and young adult had one like this:
This isn't news to any of you, but I'm here to say we've been in the 21st century for a little while now and ceiling fans have progressed in style.  Woo hoo!  I'm not sure I'm a convert yet but I've seen a few I may consider installing in the sun room.
If you're on the hunt for a ceiling fan it could feel overwhelming with all the available options.  Here's a few simple steps to make the process easier:
Determine the a) size; b) type of mount; and c) whether it needs to be a dry, damp, or wet UL-listed fan.
a) According to the American Lighting Association, the following guidelines should be followed when choosing the size:
.
| | |
| --- | --- |
| Up to 75 sq. ft. | 36" or smaller |
| Up to 144 sq. ft. | 36"-42" |
| Up to 225 sq. ft. | 50"-54" |
| 300 sq. ft. & larger | 60" & up |
Note:  In rooms over 300sf that are rectangular in nature, it may be beneficial to install two smaller fans (in the 50″ range) rather than one large fan in order to distribute air circulation more evenly in the room.
b) Optimal fan height is 8-9 feet from the floor for best air circulation and safety.  There are four types of mounts to accomplish this:
.
Flush or hugger mounts anchor the fan directly against the ceiling. They are ideal for rooms that have ceilings under 8 feet in height.
.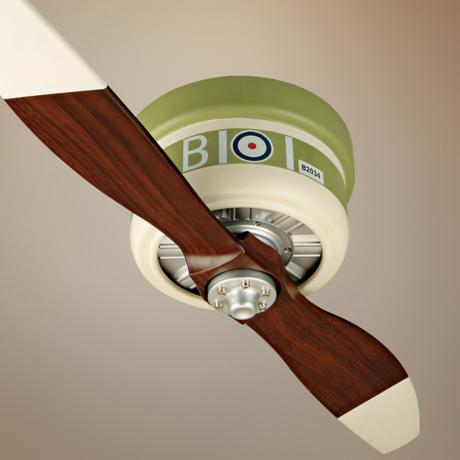 Standard mounts typically come with a 6″ downrod, a metal pipe that extends from the ceiling bracket to the top of the fan.
.
I appreciate the artistic nature of this fan. (
image source
)
Extended mounts can be used to hang the ceiling fan at the desired 8– 9 feet from the floor for tall ceilings.
.
Love this for a sun room or covered patio or porch (
image source
)
Sloped mounts are used for angled or vaulted ceilings.
.
This chart from Del Mar Designs helps determine your downrod length:
.
.
c)  Be sure to choose the correct UL-listed fan for your location.  If it'll be in a bathroom, the fan should UL-listed for damp locations.  If on a patio where it has the potential to get wet, be sure it's UL-listed for wet locations.
.
2. Select the features and design.  Light/no light; pull chain/remote; traditional, contemporary, antique, modern, etc.  Here's some things to think about when selecting a fan for your room:
.
I say get a fan you love and that compliments your decor!  Keep the finish consistent with other hardware in your home unless you are surrounded by polished brass which is considered dated these days.
.
As a general rule (although rules are made to be broken), a fan shouldn't be the focal point of a room.  Keep in mind if you select an intricate or very specific style of fan that may not appeal to the masses, when you place your home up for sale you'll probably need to replace it.  When home hunting, many times people get caught up on aesthetics and forget to look past them.
.
Hilarious and most kids would love it.  But would it work in a resale situation?
If your fan is going to provide overhead lighting in the space, avoid exposed light bulbs. Overhead light by its very nature can be harsh.  For a more relaxed environment, consider uplighting, where light bounces off the ceiling to create more of a mood effect than the traditional downlighting. Ideally a mix of ambient lighting and recessed lighting is preferable to using a ceiling fan for illumination.
.
.
.
Tip:  if you want your fan to "disappear" into the room choose a color similar to the ceiling.
.
Aside from the gold finish, this fan blends right in. (
image source
)
3.  According to the American Light Association, you should also consider the degree of the fan blades, the quality of the motor, and the length of the warranty:
Blades:Fan blades determine the amount of air being circulated throughout the room. The fan blade brackets should be positioned to hold the blade at a 12-15 degree angle for optimal circulation and be weighed and matched as a balanced set to avoid having your fan wobble. The greater the angle of the blade the more air circulation you will have in your room.
Motor: The heart of every ceiling fan is the motor. The motor is responsible for producing quiet operation while driving the blades for air movement. Look for high-quality motors with heavy-duty windings and sealed bearings that are permanently lubricated.
Warranty: When you choose to purchase look for a good warranty for the life of your fan. Some fan manufacturers offer a lifetime warranty and in-home service.
If you'd like further information, here's a good question and answer page to read at your leisure.
Well, I hope you feel you're walking away armed with valuable information for your next fan purchase.  Choose a good one!
Related posts you may like: